PH-Spear
PH meter for professionals or commercial or home use.
Highly precise and Battery Operated.
Chef's best friend, ensures high quality and standard in food preparation.
pH is one of the key parameters measured in food processing. The waterproof pH Spear with tough, spear tip open pore sensor is a rugged, user-friendly tester ideal for direct measurement of solid or semi-solid samples such as cheese, meats, fruits, bread and other similar samples.
More importantly, the pH Spear is an easy-to-clean, fuss-free pH tester specially designed for the food professional.
Factory calibrated.
pH Tester with Spear Electrode.
Tester with tough spear tip electrode,
±0.01 pH Accuracy
LARGE SCREEN DISPLAY
27mm (H) x 21mm (W) large LCD display
makes it easy to read even if tester is held
at a distance.
ONE HAND OPERATION
One hand operation is possible with
wireless electrode. Eyelet allows you to
attach a lanyard for greater portability
WATERPROOF, UNIQUE RIBBED
DESIGN
IP67 waterproof housing protects
against high humidity or condensation.
Unique ribbed design ensures firmer grip
when wet or greasy.
REPLACEABLE ELECTRODE
With the replaceable electrode you can
reuse the tester and save money over time.
Twist-off sensor design allows easy
replacement of electrode anytime.
TOUGH, OPEN PORE SPEAR TIP
ELECTRODE
Durable glass spear tip electrode, enclosed in a
resilient engineered plastic body is ideal for
piercing solid or semi-solid food samples in direct
measurement. Open pore reference junction minimizes clogging
and delivers fast, stable measurements.
Double junction sensor prolongs useful life of
electrode with no contamination of samples.
Maintenance is easy. Simply wash with mild
detergent.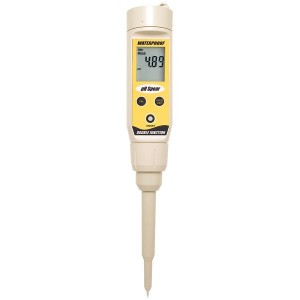 Our pH Spear is designed to be waterproof. Its electrode is builts strong with a sharp tip for the measurement of PH parameter solid or semi-solid sample such as cheese, meats, fruits, bread or other similar raw food samples before or during preparation.
Product Features
| | |
| --- | --- |
| EC-PHSPEAR | Waterproof pH Tester with Spear tip electrode 35 |
| EC-PHWPSEN04 | Replacement Double Junction Spear tip sensor 35 |
Large Display Screen – dual display LCD for enhanced readability, provides comprehensive meter information

   Waterproof, Dustproof Housing – IP67 rated, maintains the integrity of your tester even in harsh conditions.

   User-Replaceable Sensor – reuse the same meter body many times
The waterproof pH Spear is designed for semi-solid food applications – Tough spear tip glass and open pore sensor ensures stable and accurate readings of ±0.01 pH
| | |
| --- | --- |
| Range | -1.00 to 15.00 pH |
| Resolution | 0.01 |
| Accuracy | ±0.01 |
| Calibration | Up to 3 points; selectable buffers USA – pH 4.01, 7.00, 10.01; NIST – pH 4.01, 6.86, 9.18 |
| ATC | None |
| Electrode | Replaceable spear tip double junction |
| Temperature | None |
| Waterproof/Dustproof (IP67) | Yes |
| Operating Temperature | 0 to 50°C |
| Power | Four 1.5 V batteries |
| Battery life | Over 500 hours |
| Dimensions | 6.5″ x 1.5″ dia (15.5 x 3.8 cm dia) |
| Shipping weight | 4.5 oz (125 g) |